A little over a year ago, our digital marketing agency took a chance on call tracking. And guess what? It worked.
---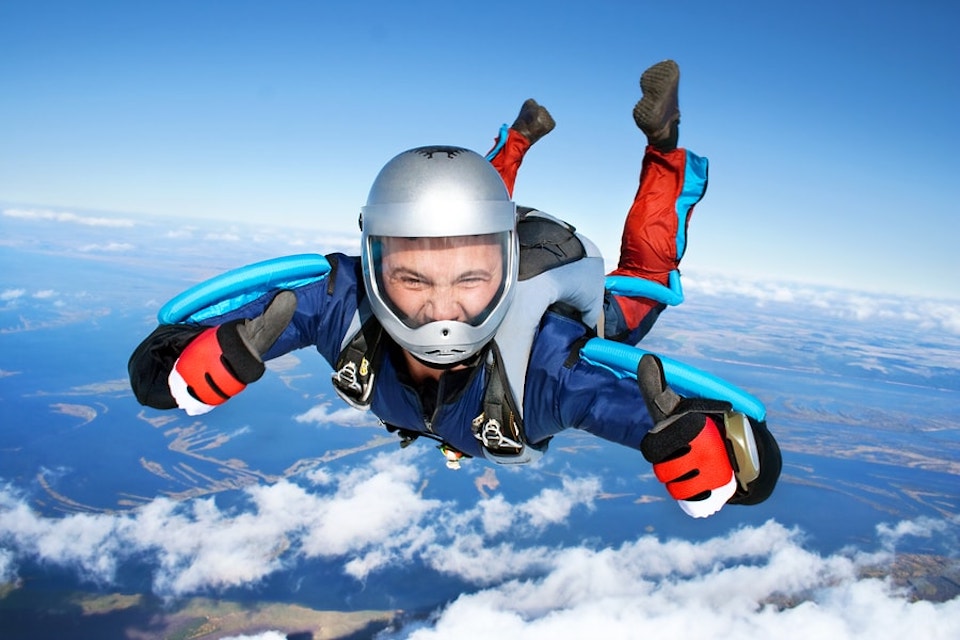 Results. It's all the matters in marketing. You can do a lot of cool stuff for your clients, but if you can't show them results, they're going to move on.
That's the problem we were facing about a year ago when our local SEO agency started seriously looking into call tracking. How could we show our clients--who were mostly small, independent insurance agencies at the time--that SEO was worth the investment?
We knew it was. We could see an upward trend in their organic traffic and online quote requests. But the numbers were low, as is the case with many small, brick-and-mortar businesses online, and we didn't think those particular metrics were telling the whole story.
A person who's interested in working with a local, independent agency instead of a nationwide company like, well, Nationwide, is probably more likely to pick up the phone rather than fill out a form on a website. They're looking for that personal touch.
That was our hypothesis anyway, and we needed a way to test it.
The Dark Conversion Point
Any good website for a local business will have the company's phone number prominently displayed on every page of the website. You want people calling the client after all.
But that means there's at least one conversion point on every single page that we're not tracking--the dark conversion point.
We could not let this stand! So we started doing some research into using call tracking in the context of local SEO. And let me tell you, it was slim pickings. Most of the pro stuff was written by people who were in the business of call tracking. And the cons seemed to mostly be based on fear and not actual experimentation.
We did, however, find a couple encouraging posts that helped guide us in the early stages. Especially this one from the Minnesota Search Engine Marketing Association. Some local SEOs were using call tracking, so why not us?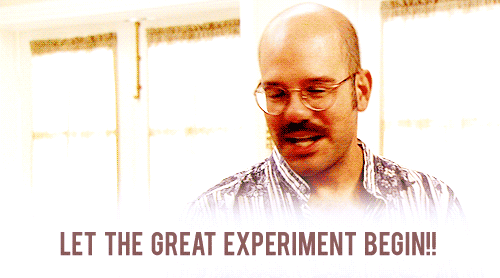 Fast Forward One Year
We'll leave the suspense to novelists--it worked. No problems with NAP consistency. No drop in rankings. No lost organic traffic.
We started slowly at first, working with just a few willing participants and tracking results with a magnifying glass.
Once we were confident that our technique was sound, we started adding it to more and more sites until call tracking became a standard feature of our offerings.
Our agency now has over a hundred local SEO clients who are successfully using call tracking on their website, and the only thing that's changed is now they can measure all the conversion points on their websites.
But don't take our word for it. Look at the numbers!
Proof That It Will All Be Okay
One of the things that bothered us most in the early stages of research was the lack of evidence in support of call tracking. None of the articles we found in support of call tracking had any numbers to back up their claims.
So before showing you how we use call tracking, we thought we'd attempt to substantiate our claims with a couple metrics from four different industries.
Of course, you have no reason to trust us completely. As far as you know, we're just cherry-picking results to prove our point. (We're not, but we understand the fear.)
Just know this--we have no stake in the call tracking industry. If it started hurting our local SEO clients tomorrow, we would drop call tracking like a hot potato. Our goal is to give you just enough confidence to try it for yourself or a client. Take it for what's it worth.
When compiling data for this post, we limited our options by devising three requirements:
Call tracking had to be running on the website for at least one year.
We needed at least one year of historical data prior to call tracking for comparison.
Each example needed to be from a different industry.
With those requirements, we couldn't cherry-pick our examples because we only had a handful of clients that qualified! Which is why some of the results are awesome and other are just decent.
We ended up with four different kinds of clients: an insurance agency, an optometrist, a dentist, and an electrician.
Here's what we found--
The Optometrist
Start date: July 1, 2015
Call data: 1,441 calls overall, 1,165 from organic
Organic traffic: 155% increase compared to the previous year
Moz Local score: 97% accuracy across the web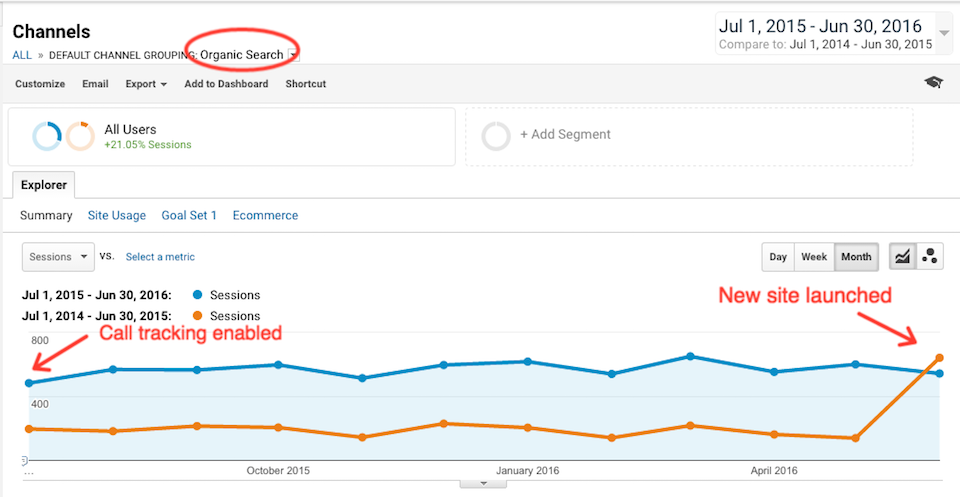 The Insurance Agency
Start date: September 30, 2015
Call data: 304 calls overall, 219 from organic
Organic traffic: 7% increase compared to the previous year
Moz Local score: 100% accuracy across the web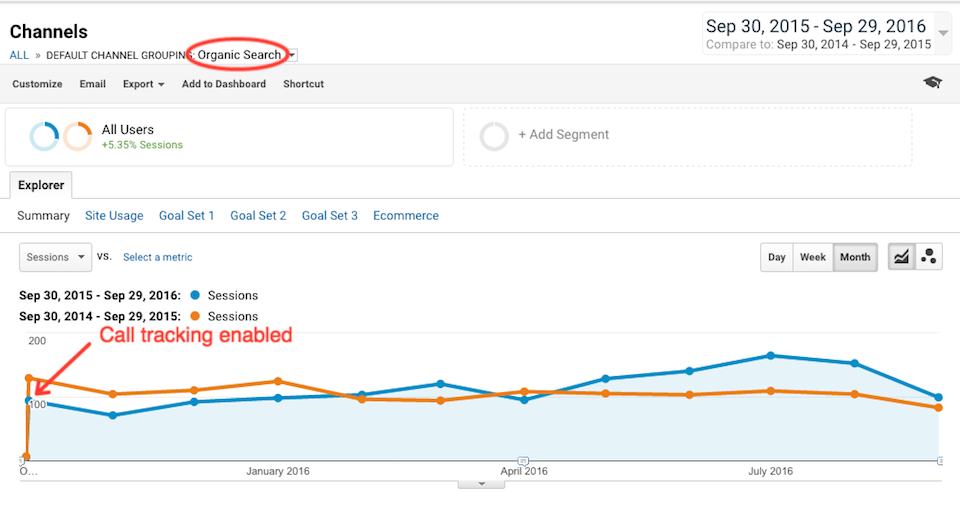 The Dentist
Start date: September 28, 2015
Call data: 797 calls overall, 539 from organic
Organic traffic: 18% increase compared to the previous year
Moz Local score: 92% accuracy across the web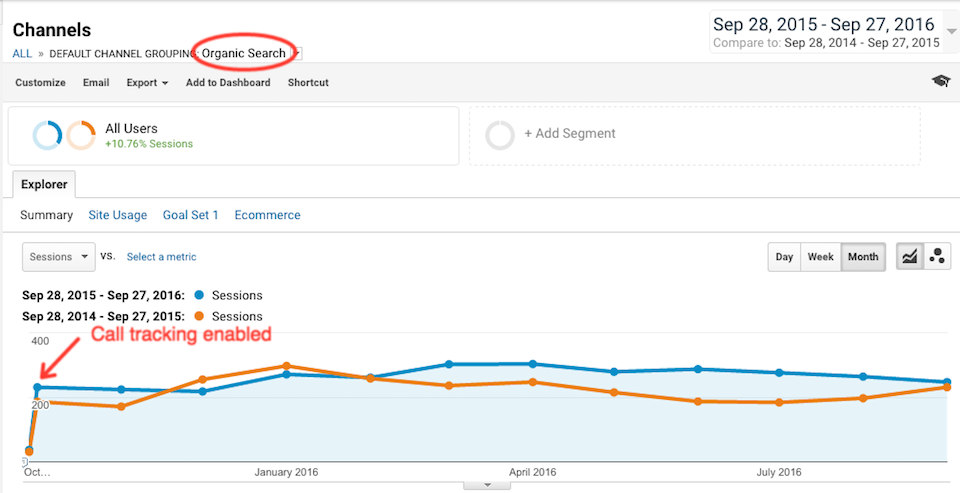 The Electrician
Start date: September 2, 2015
Call data: 550 calls overall, 323 from organic
Organic traffic: 61% increase compared to the previous year
Moz Local score: 99% accuracy across the web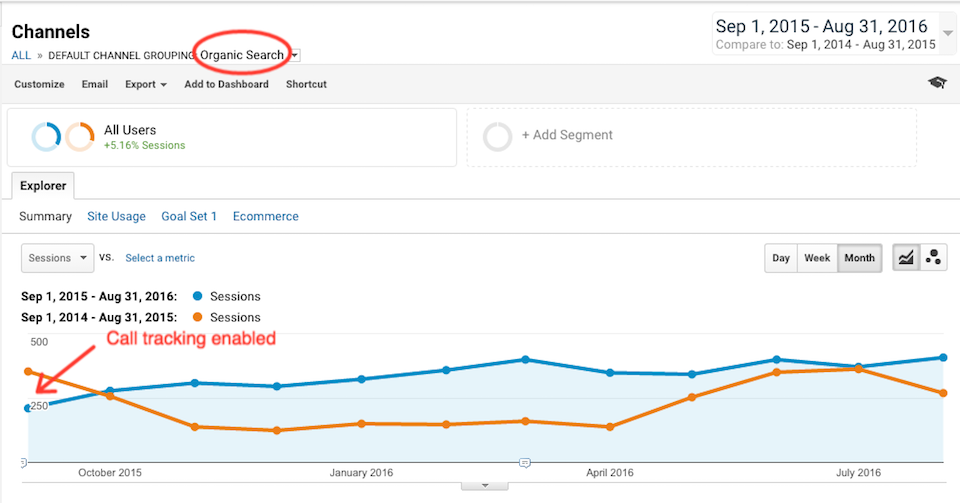 See? They're all fine. The optometrist and the electrician, in particular, are doing great! But the important thing is, none of these businesses lost traffic as a result of call tracking.
Instead, their organic traffic continued to grow, and now they have another conversion point on their website to measure success. Plus, they can track the source of calls, listen to recordings, and even make staffing decisions based on daily and weekly call volume.
Sounds like something that's worth a try, doesn't it?
How We Made It Work
When it comes to local SEO, there's definitely a wrong way to do call tracking, and it has everything to do with NAP consistency. We won't go into too much detail about NAP consistency here because there's plenty of reading material out there. But basically, if the phone number on your website does not match the phone number on your local citations, you're gonna have some issues.
There are two ways to avoid this problem:
"Porting" the number
Dynamic number insertion (DNI)
Porting vs. DNI
In a nutshell, porting means taking the official business phone number and turning it into a tracking number. This is the absolute safest way to use call tracking because the phone number--the one on the business' website and on local citations--is turned into a tracking number.
The downside is you have to set up a new number with the phone company where you can redirect calls to the tracking number. Plus, because that number is everywhere--including print ads, radio spots, local citations, etc.--it makes for a fuzzy conversion point.
We decided, instead, to go with the second approach: dynamic number insertion (DNI). DNI uses Javascript to dynamically swap the phone number displayed on a website. The tracking number is not actually hardcoded on the site anywhere.
There's more room for error with DNI, but if you do it right, the resulting data is much more actionable from a search marketing perspective. And despite prevailing fears, it doesn't seem to have any negative impact on NAP consistency in our experience.
The choice is yours, but our preference is DNI.
Tips for Using DNI
Any good call tracking application will walk you through the steps for implementing DNI on your site. But beyond that, here are few tips for doing it right:
Never hardcode a tracking number on a website. This will ensure Google doesn't index it. Over 100 "site:" searches confirm this is true.
Do not use a tracking number on any local citations. Using tracking numbers on local citations will destroy NAP consistency, especially if you ever decide to turn it off. You can set up a different call tracking number to track PPC and offline marketing campaigns, just never local citations.
Mark up the NAP with structured data. Schemas for local business are officially recognized by all major search engines. Using the Telephone itemprop, you can tell search engines, "This is my official phone number."
Keep the official phone number in the footer. We got this tip from that article by the Minnesota Search Association. We're not convinced it's 100% necessary because, when we started our call tracking program, we didn't have the ability to do this and didn't notice any negative effects. Regardless, we now show clients' real business number in the footer as a backup.
If you follow these tips, your rankings and traffic will be just fine. But don't stop there.
Track the Results Yourself
There's absolutely no reason to leap before you look. Run your own test with a couple willing participants to see if call tracking works for you. Here are a few things to measure:
Organic traffic. Of course, the most important place to look is analytics. Ideally, pick a test subject with a couple year's worth of data so you can compare apples to apples. Make an annotation to show the day you enabled call tracking and check in weekly to measure how traffic looks compared to the same time last year.
Rankings. Another thing to pay attention to is your rank tracker. It's not the most reliable metric, but it can help you spot sudden, dramatic shifts in ranking. Be sure to run a fresh report before you enable call tracking so you have a baseline.
Consistency score. Since NAP consistency is a big concern, use a reliable tool to measure the consistency of your citations across the major local listings. Moz Local's free Check Listing tool does a solid job.
"site:" searches. The last thing we want is for Google to index a tracking number. Assuage your fears by doing regular "site:" searches for the tracking numbers. Example: "site:fakeurl.com 123-456-7890".
Conclusion
We took a calculated gamble when we first started implementing call tracking for our brick-and-mortar clients. But it has paid off handsomely.
Our clients are happier because they have another KPI to measure success and more data to drive strategic business decisions. We're happier because we have an additional way to prove our worth to clients. It's a win-win.
The whole point of this article is not to definitively prove that call tracking is safe for local SEO. Rather, our intent is to give other local SEOs and DIYers the confidence to give it a shot.
If you're thinking about trying call tracking for the first time, do it right, track the results, and enjoy the benefits. We sure are.